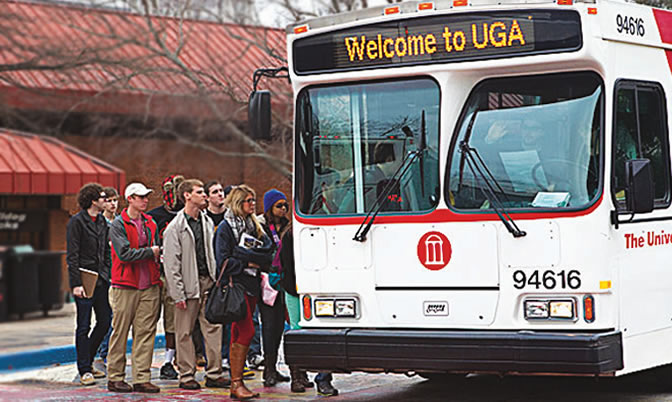 Need to get information out to the university community? Advertising space is available on the UGA buses for university departments and registered student organizations. We post ads weekly on 36 UGA buses. The $ 50.00 reservation fee covers the printing of the advertisement and the installation of the ads on the buses.
Reservations
A reservation entitles a department or organization to 1 advertisement placed on 36 buses. In order to allow access to as many departments and organizations as possible, departments and organizations are limited to 3 ads per reservation period. Artwork for the bus card, an 11" x 17" horizontal design, can be submitted as part of the on-line request process or may be submitted at a later date. Space requests and artwork should be submitted at least 5 business days prior to the first day of the bus card reservation period. Requests submitted after this time may be declined.
Space is assigned on a first-come first-serve basis. If your reservation is approved a confirmation will be emailed to you outlining the dates and price of your reservation. Payment is expected prior to the production and posting of the bus cards, and must be provided by the university department or student organization requesting the reservation.
Bus Card Content
All bus cards must advertise an event sponsored by a university department or registered student organization. The name of the sponsoring department or organization MUST appear on each bus card. Commercial solicitation may not appear on the bus card. Print & Copy Services reserves the right to refuse the posting of any bus card due to content.
Pricing
$ 5

0.00 per ad

per reservation period